If you want to make your fangame Apollo Justice style (using the new court bg/fg and big-button), you have to change the art folder of your game.
Preparing the files
Edit
Download the necessary art files, named properly to work in PyWright.
When you extract it, you'll see a file structure like so:
AJ Art
You should just drag and drop the 'art' folder into the main folder of your fan-game, and Windows will ask you if you want to merge the folders, and then ask if you want to replace files with the same name. Click Yes on both.
PyWright has a special file priority; here's an example of what will happen:
The script needs a file called "defence.png" for the background.
Searches the fangame art folder. Found a "defence.png", using it.
There may be a "defence.png" in the main art folder, but it will not be used.
Finishing touches 
Edit
If you used the default character ports, you'll notice that a few things are wrong.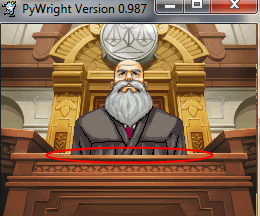 You can see the judge overlapping his stand, and his sprites are a little out-of-place. (black lines in his old sprites are not present in Apollo Justice: Ace Attorney, his sprite was updated)
There currently aren't any sprite edits of the judge using his new sprites in AJ, but you can make them yourself (and I'll make some soon and link them here)
Ad blocker interference detected!
Wikia is a free-to-use site that makes money from advertising. We have a modified experience for viewers using ad blockers

Wikia is not accessible if you've made further modifications. Remove the custom ad blocker rule(s) and the page will load as expected.